Pitch Pine Investigation Volunteer Opportunity
May 2 @ 11:00 am

-

2:00 pm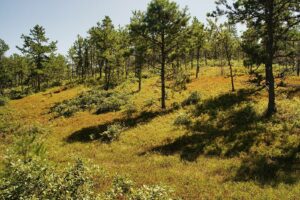 Help document and plant 50 pitch pine seedlings at the Center Hill Preserve Cranberry Bog. These seedlings are part of a study to conduct non-invasive investigation of existing pitch pine seedlings and underlying soils to better understand clues to previous pyrogeographic (the study of the past, present, and projected distribution of wildfire) history.
Before planting, volunteers will measure (a) height, (b) no. of shoots, (c) circumference and (d) root length of selective pitch pine subjects at CHP. This will be achieved by use of a digital caliper and measuring tape with data recorded contemporaneously.
Please meet at the Center Hill Preserve Beach parking area (48 Center Hill Road, Plymouth, MA 02360) and we can carpool to the research location. We anticipate the installation of the pitch pine will take about 3 hours. Dress for wet weather– rain expected.
This study is being conducted by Professor Jeffry Licht, Remote Pitch Pine Forestry Investigation, the University of Massachusetts School for the Environment.CanterC