What is a Natural Community?
A natural community is identified by the Natural Heritage and Endangered Species Program (NHESP) as "assemblages of species that recur together in particular environmental conditions." Natural communities are defined by their hydrology, physical structure, characteristic species, and other environmental factors. They are named on the basis of their dominant species. For example, one commonly found in Southeastern Massachusetts is a Pitch Pine-Scrub Oak Community.
Scroll down to see our complete Natural Communities Guide.
Why Identify Natural Communities?
Raises awareness of the distribution of plants and animals, both rare and common, in a specific area
Helps determine where management or stewardship is needed
Creates a common terminology for easier communication between ecologists, land managers, and others
Familiarizes decision-makers with characteristic plants and plant communities in their local area, a requirement for Open Space and Recreation Plans in Massachustts (4.D.1)
Identification, Assessment, and Mapping Training
SEMPBA offers training on the identification of natural communities free of charge to conservation groups in Southeastern Massachusetts. Our TerraCorps members have developed educational materials tailored to different audiences including students, decision-makers, and other non-scientists. The training explains how to use the Natural Communities Guide (below), as well as how to assess the condition of communities and map them using a handheld GPS device and Google Earth Pro.
If you are interested in the Natural Communities training, please contact Alissa at alissa.sempba@gmail.com.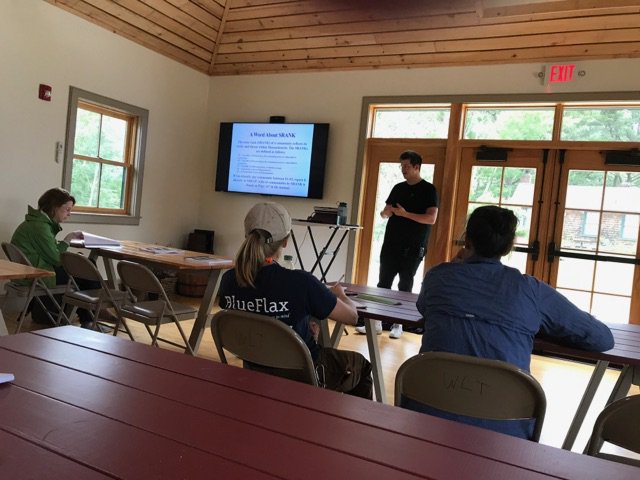 Above, TerraCorps member Jack Jezard leads a Natural Communities training at Wildlands Trust (July 2017).
Links and Resources
Check out our online field guide at naturalcommunities.info.
Report your findings to NHESP by filling out our our online form here.
Below is our Natural Communities Guide for 2018.
Guide2018