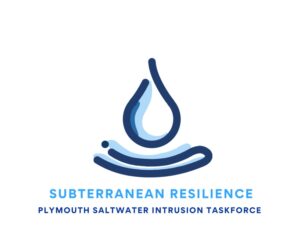 SEMPBA Receives a 2-year Municipal Vulnerability Preparedness grant to protect Plymouth's groundwater
I'm not sure most people understand the significance of what just took place this past Tuesday evening.
It's one thing to agree on ideas: it's quite another to physically work with others.
Yes, we were successful in our bid to receive – on behalf of the town – a 2-year Municipal Vulnerability Preparedness grant. Yes, the grant will be focused on protecting the Plymouth-Carver aquifer from saltwater intrusion and educating residents on the importance, in general, of protecting this critical natural resource, water. But just as importantly that effort will bring over a dozen community groups together, under one roof, for one project.
At our first official MVP meeting – a hybrid gathering (Zoom and in-person) – you might have seen or heard Glorianna Davenport, the force behind the Living Observatory which gave birth to Mass Audubon's Tidmarsh and the towns Foothills Preserve, Mary Lesueur, a force in her own right and the President of the Plymouth Area League of Women Voters, Sharl Heller, co-founder and President of the SEMass Pine Barrens Alliance, Evelyn Strawn, the other co-founder of SEMPBA, former Chair of the towns conservation committee, Dr. David Boutt of UMass-Amherst, Lee Hartmann, Plymouth's Director of Planning and Development, Melissa Ferretti, the Chairlady of the Herring Pond Wampanoag Tribe, Linda Coombs, co-founder and member of the Indigenous Resource Collaborative, Birgitta Kuehne, Plymouth Planning Board member, Chairman of the Plymouth Planning Board Malcolm MacGregor, Hampton Watkins, President of the Six Ponds Improvement Association…
I think you get the point, but I'll put a finer point on it. In the past MVP projects were almost exclusively the creation and the responsibility of municipalities.
Here, while the town will play an important role both administratively and as the possessors of important data, the impetus for this award-winning grant proposal has been the community.
That means that not only is the community's perspective represented from the outset, but that the burden, both financially and personnel-wise, does not fall exclusively on town government.
That also means that all residents have a more important part to play in this project. They are critically needed as volunteers and as active participants. They are needed as well, specifically, to allow their wells to be sampled or, to be trained to do that testing themselves. And no matter where you live in Plymouth you are standing on top of the Plymouth-Carver aquifer, so the depth, direction and quality of your water, is of interest to us!
There will be plenty to say about the scientific elements of this project as we move forward. But for now, take a moment to celebrate the power of community.
—Frank Mand
August, 2021